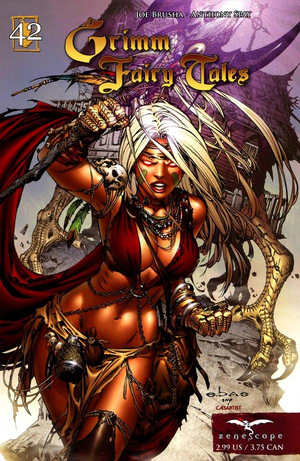 Baba Yaga (Comic Book)
Publication Details
Series Title:
Grimm Fairy Tales
Original Title:
Baba Yaga
Release Date:
October 21, 2009
Digital Release Date:
October 26, 2011
Current Digital Price:
$1.99
Issue #:
42
Series Volume #:
7
Pages:
23
Baba Yaga (Comic Book) is issue #42 in the Grimm Fairy Tales.
Summary
Long before Sela became the guardian of her fairy tale book there was another who possessed it. Just as Sela has had to battle the forces of evil so did her predecessor, Allexa. Her greatest enemy was the witch they called Baba Yaga. And now the story of their final battle is told here for the first time. Don't miss this issue as more history of the Grimm Fairy Tales Universe is revealed in a tale that tells how Sela was chosen to fulfill her destiny.
Person, Place, or Thing
Characters
New Characters
Allexa
Baba Yaga
Black horseman
Red horseman
White horseman
Mentioned But Not Seen
Thomas Mathers
Locations
Objects
Powers
Gallery
Covers
Preiews
Ads
Ad blocker interference detected!
Wikia is a free-to-use site that makes money from advertising. We have a modified experience for viewers using ad blockers

Wikia is not accessible if you've made further modifications. Remove the custom ad blocker rule(s) and the page will load as expected.