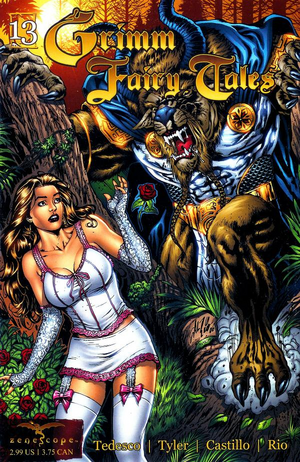 Beauty and the Beast
Publication Details
Series Title:
Grimm Fairy Tales
Original Title:
Beauty and the Beast
Published:
February 2007
Release Date:
March 14, 2007
Released Price:
$2.99
Digital Release Price:
$1.99
Issue #:
13
Series Volume #:
3
Beauty and the Beast is issue #13 in the Grimm Fairy Tales. It is also the first issue in the third volume.
Summary
A young girl is desperate to escape an abusive relationship before it's too late and a meeting with her professor, Sela, might provide her a way out... when a young man is transformed into a hideous beast he is granted a short time to change his ways and reverse the curse, but can he overcome his abusive mindset or will his rage consume him and ruin any chance he has at redemption?
Person, Place, or Thing
Characters
Locations
Objects
Powers
Gallery
Covers
Previews
Ads
Ad blocker interference detected!
Wikia is a free-to-use site that makes money from advertising. We have a modified experience for viewers using ad blockers

Wikia is not accessible if you've made further modifications. Remove the custom ad blocker rule(s) and the page will load as expected.