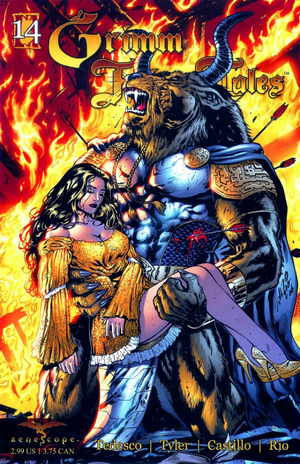 Beauty and the Beast II
Publication Details
Series Title:
Grimm Fairy Tales
Original Title:
Beauty and the Beast
Published:
April 2007
Release Date:
May 9, 2007
Released Price:
$2.99
Digital Release Price:
$1.99
Issue #:
14
Series Volume #:
3
Pages:
23
Beauty and the Beast II is issue #14 in the Grimm Fairy Tales. It is also he second issue in the third volume.
Summary
Drew's gorgeous girlfriend, Jenna, has finally left him and his abusive ways behind as she finds happiness in another man's arms. But the vengeful Drew is not about to let the happy couple live happily ever after. Meanwhile an enraged Beast searches for his Beauty after she was rescued from his estate. The Beast's plan is to take Jesabel back no matter what the cost and he knows that means nothing short of death and destruction on his path to find her. Not even Sela herself can predict how this intense saga will end.
Person, Place, or Thing
Characters
Locations
Objects
Powers
Gallery
Covers
Previews
Ads
Ad blocker interference detected!
Wikia is a free-to-use site that makes money from advertising. We have a modified experience for viewers using ad blockers

Wikia is not accessible if you've made further modifications. Remove the custom ad blocker rule(s) and the page will load as expected.