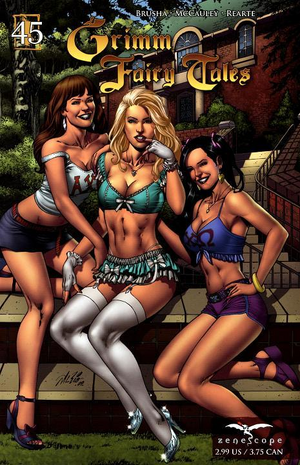 Cinderella Revisited
Publication Details
Release Date:
March 10, 2010
Released Price:
$2.99
Digital Release Date:
November 9, 2011
Current Digital Price:
$1.99
Cinderella Revisited is issue #45 in the Grimm Fairy Tales.
Summary
What ever happened to Cinderella? Way back in Grimm Fairy Tales #2 we met Cindy, a poor college freshman being tortured by the snobby sorority girls on campus until Sela came to her rescue. Under Belinda's influence Sela transported her to the fairy tale realm and promised to make all of Cindy's dreams come true for a small price...Her Soul. Cindy has been living the good life on campus since she made her deal but when she gets a visit from the Devil's right hand man she finds out the time has come to pay up. Cindy's fate is revealed in this issue...Cinderella Revisited.
Person, Place, or Thing
Characters
Locations
Objects
Powers
Gallery
Covers
Preiews
Ads
Ad blocker interference detected!
Wikia is a free-to-use site that makes money from advertising. We have a modified experience for viewers using ad blockers

Wikia is not accessible if you've made further modifications. Remove the custom ad blocker rule(s) and the page will load as expected.