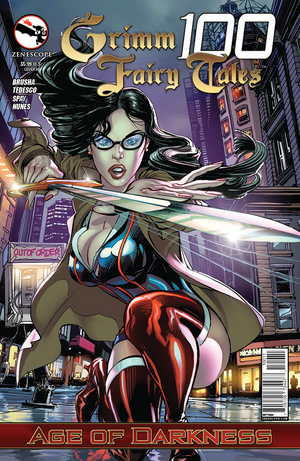 Darkness Falls
Publication Details
Story Arc Title:
Age of Darkness
Release Date:
July 2014
Released Price:
$5.99
Issue #:
100
Story Arc Volume #:
4
Darkness Falls is issue #100 in the Grimm Fairy Tales.
Summary
The landmark issue of one of the hottest indie comics of the past decade has arrived!
It all began with Sela Mathers, the Guardian of the Nexus, a woman tasked with teaching misguided humans right from wrong. But Sela's struggles, her ups and downs, and the effects of those she's helped and those she's lost to darkness will all culminate in this epic 100th issue! Sela will take on the biggest threat she's ever faced as the Dark Queen looks to plunge the Grimm Universe into an Age of Darkness.
Person, Place, or Thing
Gallery
Covers
Previews
Ads