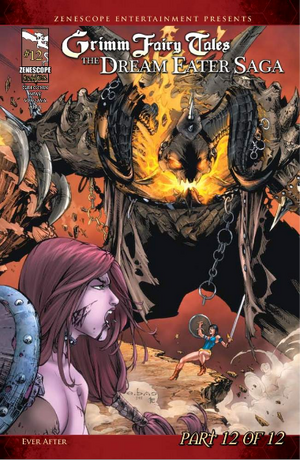 Ever After
Publication Details
Story Arc Title:
The Dream Eater Saga
Release Date:
October 26, 2011
Digital Release Date:
March 21, 2012
Story Arc Issue #:
12
Story Arc Volume #:
2
Comic Guide
Publication Order
Previous
Inferno One-Shot
Next
Final Issue in Series
Ever After is issue #12 in The Dream Eater Saga. It is also the final issue in the saga.
Summary
The epic 48 page conclusion to the Dream Eater Saga is HERE! A battle for the ages begins as heroes and the villains from the Grimm Universe must band together in order to have any chance at defeating a being of incredible power. But someone is plotting to save him or herself and an act of betrayal will have drastic consequences on them all. Do not miss this final issue of the Zenescope crossover that will have fans talking for years!
Person, Place, or Thing
Gallery
Covers
Previews
Ads
Reviews
Ad blocker interference detected!
Wikia is a free-to-use site that makes money from advertising. We have a modified experience for viewers using ad blockers

Wikia is not accessible if you've made further modifications. Remove the custom ad blocker rule(s) and the page will load as expected.