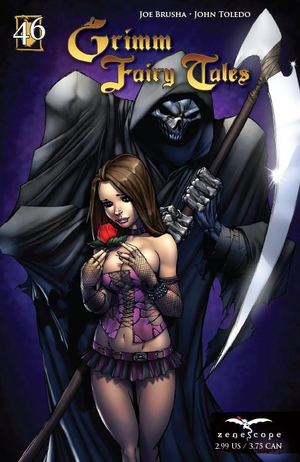 Godfather Death
Publication Details
Series Title:
Grimm Fairy Tales
Story Arc Title:
Grimm Fairy Tales
Release Date:
April 7, 2010
Digital Release Date:
November 9, 2011
Issue #:
46
Series Volume #:
8
Story Arc Issue #:
46
Story Arc Volume #:
8
Godfather Death is issue #46 in the Grimm Fairy Tales.
Summary
Grimm Fairy Tales presents...Godfather Death. What if you were given the power to choose who lives and who dies? That is the gift that Death bestows upon his god son in this classic fairy tale...a gift that carries with it dire consequences for those who don't go along with Death's plans.
Person, Place, or Thing
Characters
Locations
Objects
Powers
Gallery
Covers
Preiews
Ads
Ad blocker interference detected!
Wikia is a free-to-use site that makes money from advertising. We have a modified experience for viewers using ad blockers

Wikia is not accessible if you've made further modifications. Remove the custom ad blocker rule(s) and the page will load as expected.