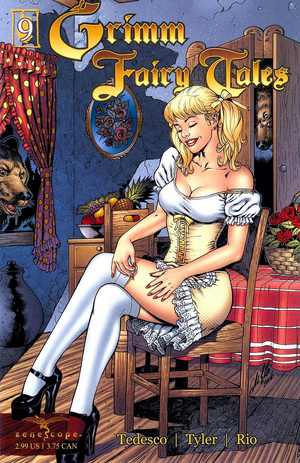 Goldilocks & the Three Bears
Publication Details
Series Title:
Grimm Fairy Tales
Original Title:
Goldilocks & the Three Bears
Published:
August 2006
Release Date:
October 11, 2006
Released Price:
$2.99
Digital Release Price:
$1.99
Issue #:
9
Series Volume #:
2
Goldilocks & the Three Bears is issue #9 in the Grimm Fairy Tales. It is also the third issue in the second volume.
Summary
The very eccentric and very rich Mr. Lockett is smitten with the much younger and very beautiful Goldilocks. His advances finally prove successful as Goldy accepts an offer to move into his estate. However, little does Mr. Lockett know that Goldilocks is certainly not all she's cracked up to be. She has a shocking plan to take his fortune out from under his nose even if it means killing him. But Goldilocks quickly learns that gold-digging might not be the best career move after she finds 3 much bigger problems to contend with.
Person, Place, or Thing
Characters
Locations
Objects
Powers
Gallery
Covers
Previews
Ads
Ad blocker interference detected!
Wikia is a free-to-use site that makes money from advertising. We have a modified experience for viewers using ad blockers

Wikia is not accessible if you've made further modifications. Remove the custom ad blocker rule(s) and the page will load as expected.