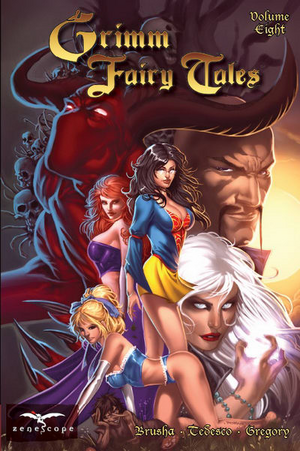 Grimm Fairy Tales (TPB) 8
This is the eighth collected volume of Grimm Fairy Tales comics. It contains issues 43-50 which were published between ??? and ???. There have been two editions.
Summary
Grimm Fairy Tales Volume 8 is here! Fairy Tales and Fables have been passed down from generation to generation throughout the world for hundreds of years. But there has never been an adaptation quite like this! This is the first Grimm volume to contain a full EIGHT issues, culminating in the explosive, landmark 50th issue. Godfather Death, The Devils Brother, Hunt for the Unicorn and Cinderella part two are included in this issue.
Person, Place, or Thing
Gallery
Covers
Completed Issue Covers
Ads
Reviews
Trivia