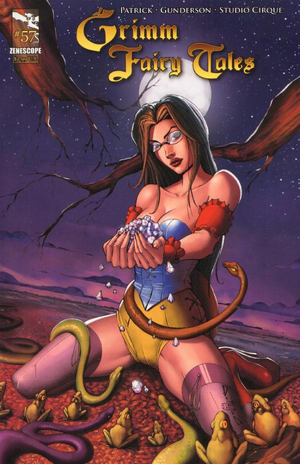 Grimm Fairy Tales 57
Publication Details
Original Title:
Diamonds and Toads
Release Date:
March 23, 2011
Released Price:
$2.99
Digital Release Date:
January 11, 2012
Grimm Fairy Tales 57 is issue #57 in the Grimm Fairy Tales.
Summary
Grimm Fairy Tales present the classic fairy tale Diamonds and Toads. Fresh from her battle with Goblin Queen Sela now has to deal with the wizard's pupil Gruel. Long before he became trained in the art of magic Gruel suffered an evil curse. A curse that would scar him for life and set him on a path of revenge against everything pure or beautiful in the world. His life's goal is destruction and Sela is next on the list.
Person, Place, or Thing
Characters
Locations
Objects
Powers
Gallery
Covers
Preiews
Ads
Ad blocker interference detected!
Wikia is a free-to-use site that makes money from advertising. We have a modified experience for viewers using ad blockers

Wikia is not accessible if you've made further modifications. Remove the custom ad blocker rule(s) and the page will load as expected.