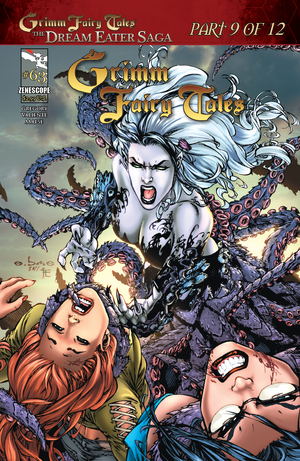 Grimm Fairy Tales 63
Publication Details
Series Title:
Grimm Fairy Tales
Story Arc Title:
The Dream Eater Saga
Release Date:
August 31, 2011
Digital Release Date:
February 22, 2012
Issue #:
63
Story Arc Issue #:
9
Story Arc Volume #:
2
Grimm Fairy Tales 63 is issue #9 in The Dream Eater Saga.
Summary
Sela's journey to free Erik's soul from limbo leads her to search out the deadly Sea Witch named Ursula who dwells beneath the ocean in the realm of Myst. But Sela isn't the only one looking for the powerful witch; Belinda has too returned to Myst and the fate of the Grimm Universe hangs in the balance as two arch enemies meet once again. Part 9 of the event that will change everything is here!
Person, Place, or Thing
Gallery
Covers
Previews
Ads
Ad blocker interference detected!
Wikia is a free-to-use site that makes money from advertising. We have a modified experience for viewers using ad blockers

Wikia is not accessible if you've made further modifications. Remove the custom ad blocker rule(s) and the page will load as expected.