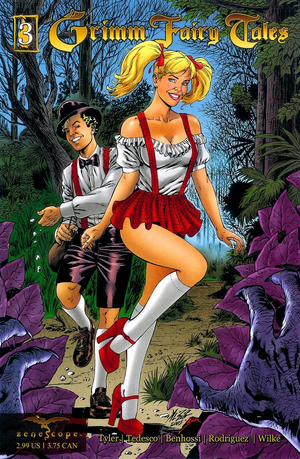 Hansel & Gretel
Publication Details
Series Title:
Grimm Fairy Tales
Original Title:
Hansel and Gretel
Published:
December 2005
Release Date:
February 2006
Released Price:
$2.99
Digital Release Date:
October 15, 2009
Digital Release Price:
$0.99
Issue #:
3
Series Volume #:
1
Pages:
24
Hansel & Gretel is issue #3 in the Grimm Fairy Tales.
Summary
Fed up with their parents' rules, two runaway teens hitchhike their way out of their rural town. After being picked up by a beautiful yet mysterious driver their ride takes an unexpected turn out of town and into the world of Grimm Fairy Tales… Hansel and Gretel soon find that the problems they left behind at home are nothing compared to the horror that awaits them on their ill-advised journey.
Person, Place, or Thing
Gallery
Covers
Previews
Ads
Ad blocker interference detected!
Wikia is a free-to-use site that makes money from advertising. We have a modified experience for viewers using ad blockers

Wikia is not accessible if you've made further modifications. Remove the custom ad blocker rule(s) and the page will load as expected.