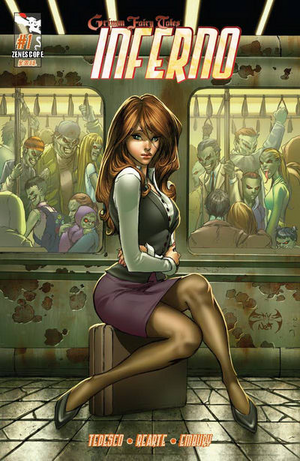 Inferno 1
Publication Details
Original Title:
Inferno: Part 1
Release Date:
May 5, 2010
Released Price:
$2.99
Digital Release Date:
March 2, 2011
Digital Release Price:
$1.99
Pages:
22
Comic Guide
Publication Order
Previous
First Issue in Series
Next
Inferno 2
Inferno 1 is issue #1 in the Grimm Fairy Tales: Inferno.
Summary
The brand new Grimm Fairy Tales mini-series is here! Grace is lost and restless in a big city where her nightmares seem all too real. Suffering from a form of amnesia, she only feels empty and confused. Her therapist overmedicates, her boss sexually harasses her and her boyfriend beats her. The world is quickly closing in around Grace but when she learns the truth of her past she might just find the power within to redeem her life and battle her demons, no matter how real they might be. Jacob's Ladder meets The Long Kiss Goodnight in this explosive mini-series only from ZENESCOPE ENTERTAINMENT.
Person, Place, or Thing
Gallery
Covers
Previews
Ads
Ad blocker interference detected!
Wikia is a free-to-use site that makes money from advertising. We have a modified experience for viewers using ad blockers

Wikia is not accessible if you've made further modifications. Remove the custom ad blocker rule(s) and the page will load as expected.