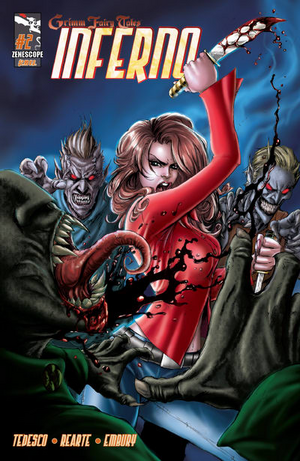 Inferno 2
Publication Details
Original Title:
Inferno: Part 2
Release Date:
August 4, 2010
Released Price:
$2.99
Digital Release Date:
March 2, 2011
Digital Release Price:
$1.99
Pages:
24
Inferno 2 is issue #2 in the Grimm Fairy Tales: Inferno.
Summary
With her boyfriend trying to kill her and her boss literally being a demon to work for, Grace can't tell if she's insane or if something really bad is about to happen. She seeks out Sela to find the truth about her past in the hopes of gaining some sanity back. But nothing can prepare her for the shocking turn of events and realization of what is really happening. Jacob's Ladder meets The Long Kiss Goodnight in this action-packed psychological thriller from Zenescope!
Person, Place, or Thing
Characters
New Characters
Mr. Radnor
Gallery
Covers
Previews
Ads
Ad blocker interference detected!
Wikia is a free-to-use site that makes money from advertising. We have a modified experience for viewers using ad blockers

Wikia is not accessible if you've made further modifications. Remove the custom ad blocker rule(s) and the page will load as expected.