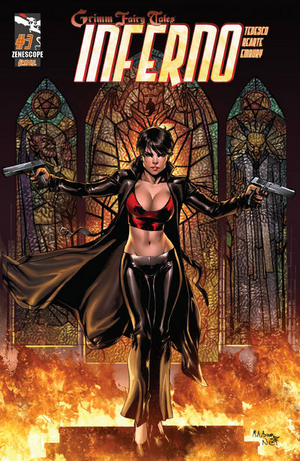 Inferno 3
Publication Details
Original Title:
Inferno: Part 3
Release Date:
September 1, 2010
Released Price:
$2.99
Digital Release Date:
March 16, 2011
Digital Release Price:
$1.99
Pages:
22
Inferno 3 is issue #3 in the Grimm Fairy Tales: Inferno.
Summary
Mercy Dante battles her way deeper into the pits of hell as she searches for "The Priest." Once a man of the cloth the Priest has been sentenced to an eternity inside the third ring of the Inferno, the circle reserved for the wrathful and the gluttonous. And he may be the only one who can guide Mercy further into hell as she searches for the man she must rescue. But when Dante makes her way inside of an eerie and unwelcoming church in the middle of the third ring she knows there is something very evil lurking and she must rely on her instincts in order to make it out in one piece.
Person, Place, or Thing
Gallery
Covers
Previews
Ads
Ad blocker interference detected!
Wikia is a free-to-use site that makes money from advertising. We have a modified experience for viewers using ad blockers

Wikia is not accessible if you've made further modifications. Remove the custom ad blocker rule(s) and the page will load as expected.