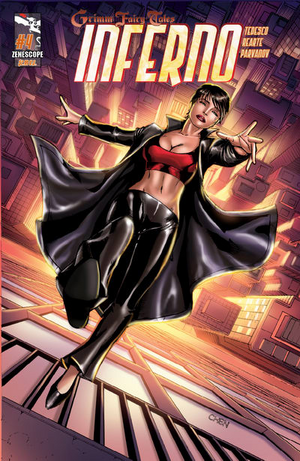 Inferno 4
Publication Details
Story Arc Title:
Inferno
Original Title:
Inferno: Part 4
Release Date:
October 6, 2010
Released Price:
$2.99
Digital Release Date:
March 16, 2011
Digital Release Price:
$1.99
Story Arc Issue #:
4
Story Arc Volume #:
1
Pages:
22
Inferno 4 is issue #4 in the Grimm Fairy Tales: Inferno.
Summary
Mercy Dante has battled through hordes of demons and been victorious each time with her soul and mind still intact. Worn down and tired she must now face her most difficult test yet...her own inner demons. As Mercy enters into the next ring of hell she comes face to face with her past actions and she must fight the urge to succumb to the insanity that surrounds her. She must either accept and to carry the burden of her past or succumb to the pits of hell for all eternity. Redemption is within her reach but the Inferno is relentless and no one before her has ever survived its evil.
Person, Place, or Thing
Gallery
Covers
Previews
Ads
Ad blocker interference detected!
Wikia is a free-to-use site that makes money from advertising. We have a modified experience for viewers using ad blockers

Wikia is not accessible if you've made further modifications. Remove the custom ad blocker rule(s) and the page will load as expected.