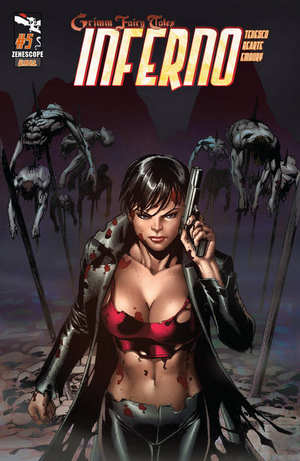 Inferno 5
Publication Details
Original Title:
Inferno: Part 5
Release Date:
December 15, 2010
Released Price:
$2.99
Digital Release Date:
April 27, 2011
Digital Release Price:
$1.99
Pages:
22
Inferno 5 is issue #5 in the Grimm Fairy Tales: Inferno.
Summary
After making her way through and wreaking havoc inside the realm of pure evil, Mercy has finally found the soul she was sent to rescue. With time against her, she must escape hell before the portal closes and all hope is lost. But nothing comes easy inside the Inferno and Mercy is about to find that she's in for a terrifying battle against a powerful and unforgiving enemy. In a world where no hope exists and only horror permeates, one woman must dig deep and find the will to finish the job she was meant to do and redeem the life that went straight to the pits of hell. Don't miss the thrilling, action-packed conclusion to Grimm Fairy Tales' INFERNO!
Person, Place, or Thing
Characters
New Characters
Belial
Jay
Gallery
Covers
Previews
Ads
Ad blocker interference detected!
Wikia is a free-to-use site that makes money from advertising. We have a modified experience for viewers using ad blockers

Wikia is not accessible if you've made further modifications. Remove the custom ad blocker rule(s) and the page will load as expected.