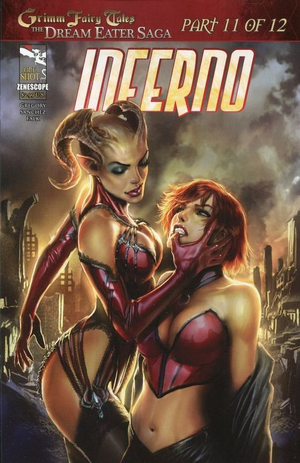 Inferno One-Shot
Publication Details
Story Arc Title:
The Dream Eater Saga
Release Date:
September 21, 2011
Digital Release Date:
March 14, 2012
Digital Release Price:
$2.99
Story Arc Issue #:
11
Story Arc Volume #:
2
Pages:
24
Inferno One-Shot is issue #11 in The Dream Eater Saga. It is also an Inferno one-shot.
Summary
Sela and Belinda journey to the underworld realm of the Inferno in search of the final missing piece of their plan to defeat the Dream Eater. But that piece happens to be the Dark One himself. Meanwhile, Mercy Dante is searching after the Dark One too and cannot afford to let anything stand in her way. Part 11 of the event that will change everything is here!
Person, Place, or Thing
Gallery
Covers
Previews
Ads
Ad blocker interference detected!
Wikia is a free-to-use site that makes money from advertising. We have a modified experience for viewers using ad blockers

Wikia is not accessible if you've made further modifications. Remove the custom ad blocker rule(s) and the page will load as expected.