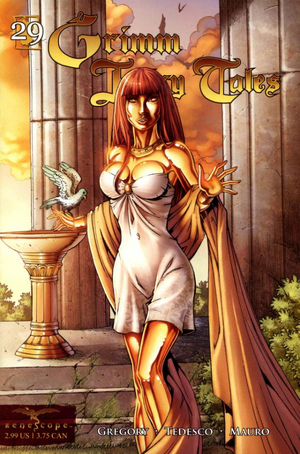 King Midas
Publication Details
Series Title:
Grimm Fairy Tales
Original Title:
King Midas
Release Date:
July 30, 2008
Released Price:
$2.99
Digital Release Date:
July 27, 2011
Current Digital Price:
$1.99
Issue #:
29
Series Volume #:
5
Pages:
22
King Midas is issue #29 in the Grimm Fairy Tales.
Summary
Grimm Fairy Tales continues to rewrite history when the story of the good and humble King Midas is retold in horrifying fashion. The king makes a wish to appease his daughter's greed only to find that the best intentions are not always paved with gold. In a shocking and twisted case of reversal of fortune, the king learns that while the gold piles high, true treasure is where the heart lies and that all the riches in the world mean nothing if the price you pay is the one thing you care about most.
Person, Place, or Thing
Gallery
Covers
Previews
Ads
Ad blocker interference detected!
Wikia is a free-to-use site that makes money from advertising. We have a modified experience for viewers using ad blockers

Wikia is not accessible if you've made further modifications. Remove the custom ad blocker rule(s) and the page will load as expected.