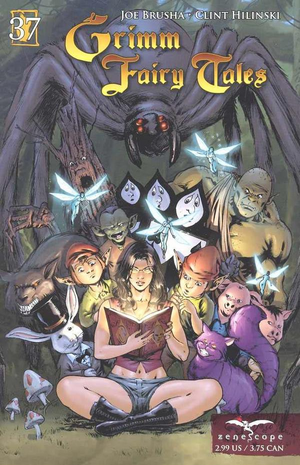 Little Miss Muffet: Part 2
Publication Details
Original Title:
Little Miss Muffet: Part 2
Release Date:
April 8, 2009
Digital Release Date:
August 17, 2011
Pages:
22
Little Miss Muffet: Part 2 is issue #37 in the Grimm Fairy Tales.
Summary
Everyone's favorite fairy tale girl is back. For over two hundred years Sela has carried her fairy tale book, wielding the powers that came with it. She has helped dozens of strangers and punished her fair share as well. But where did her powers come from and what is her ultimate purpose? At last the origin of Sela's book and her powers is revealed in this landmark issue. This is one book true fans cannot afford to miss!
Person, Place, or Thing
Characters
Locations
Objects
Powers
Gallery
Covers
Previews
Ads
Ad blocker interference detected!
Wikia is a free-to-use site that makes money from advertising. We have a modified experience for viewers using ad blockers

Wikia is not accessible if you've made further modifications. Remove the custom ad blocker rule(s) and the page will load as expected.