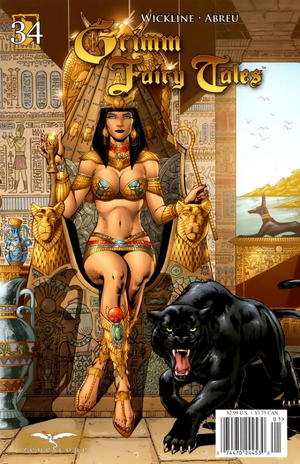 Puss In Boots
Publication Details
Series Title:
Grimm Fairy Tales
Release Date:
February 4, 2009
Digital Release Date:
August 10, 2011
Issue #:
34
Series Volume #:
6
Puss In Boots is issue #34 in the Grimm Fairy Tales.
Summary
What price for eternal youth? In the twisted style you've come to expect, Grimm Fairy Tales present 'Puss n' Boots!' The pursuit of immortality knows no limits for some, even when it comes to family. Aunt and niece are willing to commit the ultimate act in hopes of living forever, all while trying to meet the insatiable needs of a feline statue that feeds on human souls. The mysterious Belinda shares the ancient history of the unusual statue, a story so compelling that it propels niece against aunt toward the story's horrifying conclusion!
Person, Place, or Thing
Characters
Locations
Objects
Powers
Gallery
Covers
Preiews
Ads
Ad blocker interference detected!
Wikia is a free-to-use site that makes money from advertising. We have a modified experience for viewers using ad blockers

Wikia is not accessible if you've made further modifications. Remove the custom ad blocker rule(s) and the page will load as expected.