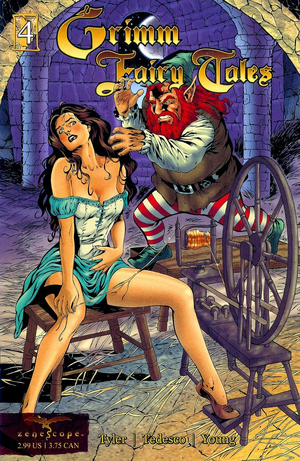 Rumplestiltskin (Comic Book)
Publication Details
Series Title:
Grimm Fairy Tales
Original Title:
Rumplestiltskin
Published:
January 2006
Release Date:
March 2006
Released Price:
$2.99
Digital Release Date:
December 3, 2009
Digital Release Price:
$1.99
Issue #:
4
Series Volume #:
1
Pages:
23
Rumplestiltskin (Comic Book) is issue #4 in the Grimm Fairy Tales.
Summary
A mother resents her infant son, a young girl is in jeopardy of losing her unborn child and a mysterious stranger connects the women's souls through an abiding tale… When a desperate father lies about his daughter's gifted ability it immediately puts the girl's life in danger. Her only salvage may be found in a deal with a hideous dwarf who offers to help her for a tremendous price. The classic story of Rumpelstiltskin gets the Zenescope treatment and delivers yet another shocking twist for fans of this intriguing series.
Person, Place, or Thing
Gallery
Covers
Previews
Ads
Ad blocker interference detected!
Wikia is a free-to-use site that makes money from advertising. We have a modified experience for viewers using ad blockers

Wikia is not accessible if you've made further modifications. Remove the custom ad blocker rule(s) and the page will load as expected.