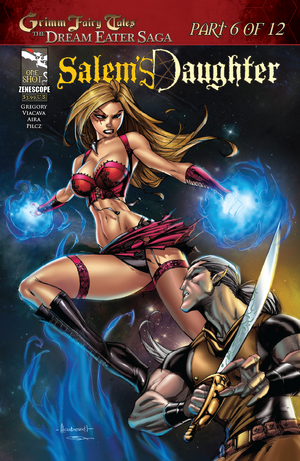 Salem's Daughter One-Shot
Publication Details
Story Arc Title:
The Dream Eater Saga
Release Date:
July 27, 2011
Released Price:
$3.99
Digital Release Date:
February 1, 2012
Digital Release Price:
$2.99
Story Arc Issue #:
6
Story Arc Volume #:
1
Pages:
32
Salem's Daughter One-Shot is issue #6 in The Dream Eater Saga.
Summary
The amazing Dream Eater crossover event continues! Braden and Anna investigate a mysterious occurrence in a small Delaware town as residents are ravaged by a sickness that turns them old and kills them within hours. Only a few are not affected and Anna knows that something evil is at work. Now as Braden becomes infected, Anna must figure out a way to save him before he too falls victim! Part 6 of the incredible Grimm Fairy Tales Dream Eater crossover event is here and includes 40 pages of content!
Person, Place, or Thing
Gallery
Covers
Previews
Ads
Ad blocker interference detected!
Wikia is a free-to-use site that makes money from advertising. We have a modified experience for viewers using ad blockers

Wikia is not accessible if you've made further modifications. Remove the custom ad blocker rule(s) and the page will load as expected.