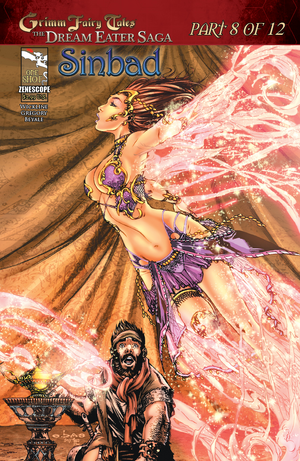 Sinbad One-Shot
Publication Details
Story Arc Title:
The Dream Eater Saga
Release Date:
August 10, 2011
Digital Release Date:
February 15, 2012
Digital Release Price:
$2.99
Story Arc Issue #:
8
Story Arc Volume #:
2
Pages:
30
Sinbad One-Shot is issue #8 in The Dream Eater Saga. It is a one-shot for Sinbad.
Summary
The amazing Dream Eater crossover event continues! Sinbad and his crew come face to face with Baba Yaga as she enters their realm to find the mysterious weapon that might be able to stop the Dream Eater. What is this powerful weapon and what tragic ties does it have to one of the most evil villains the Grimm Universe has ever seen? Part 8 of the incredible Grimm Fairy Tales Dream Eater crossover event is here and includes 40 pages of content!
Person, Place, or Thing
Gallery
Covers
Previews
Ads
Ad blocker interference detected!
Wikia is a free-to-use site that makes money from advertising. We have a modified experience for viewers using ad blockers

Wikia is not accessible if you've made further modifications. Remove the custom ad blocker rule(s) and the page will load as expected.