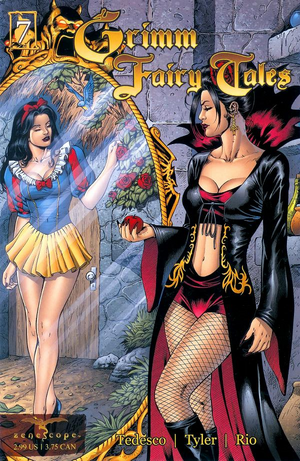 Snow White (Comic Book)
Publication Details
Series Title:
Grimm Fairy Tales
Original Title:
Snow White
Release Date:
July 5, 2006
Released Price:
$2.99
Digital Release Date:
January 14, 2010
Digital Release Price:
$1.99
Issue #:
7
Series Volume #:
2
Snow White (Comic Book) is issue #7 in the Grimm Fairy Tales. It is also the first issue in the second volume.
Summary
A mysterious illness befalls a high school cheerleader while her caring stepmother stays home to tend to her. But when a heinous act of betrayal is revealed, one person knows such actions can never go unpunished as a journey into Grimm Fairy Tales begins… A beautiful princess becomes the envy of her aging step-mother and nothing will stop the jealous Queen from remaining the most beautiful woman in the land. But when her jealousy is taken too far the Queen finds that the wrath coming her way is unlike anything she could have ever imagined.
Person, Place, or Thing
Gallery
Covers
Previews
Ads
Ad blocker interference detected!
Wikia is a free-to-use site that makes money from advertising. We have a modified experience for viewers using ad blockers

Wikia is not accessible if you've made further modifications. Remove the custom ad blocker rule(s) and the page will load as expected.