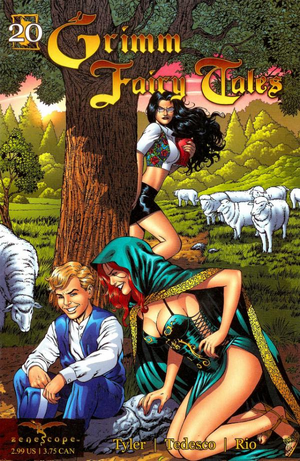 The Boy Who Cried Wolf
Publication Details
Original Title:
The Boy Who Cried Wolf
Release Date:
January 23, 2008
Released Price:
$2.99
Digital Release Date:
May 4, 2011
The Boy Who Cried Wolf is issue #20 in the Grimm Fairy Tales.
Summary
"The Boy Who Cried Wolf" gets the Grimm Fairy Tales treatment in this can't-miss issue. When a young boy is assaulted by the town outcast, his family and neighbors are hell bent on getting swift justice, even if it means dealing it out themselves. But things aren't always as they seem, and the boy they thought they knew isn't what he appears to be. But by the time they realize the error of their ways, it's much too late to undo the horrible act they've committed A new teacher with her own unique powers is on hand to teach a lesson about the ugly side of human nature, and Sela's world is about to undergo a major change that isn't for the better.
Person, Place, or Thing
Characters
Locations
Objects
Powers
Gallery
Covers
Previews
Ads
Ad blocker interference detected!
Wikia is a free-to-use site that makes money from advertising. We have a modified experience for viewers using ad blockers

Wikia is not accessible if you've made further modifications. Remove the custom ad blocker rule(s) and the page will load as expected.