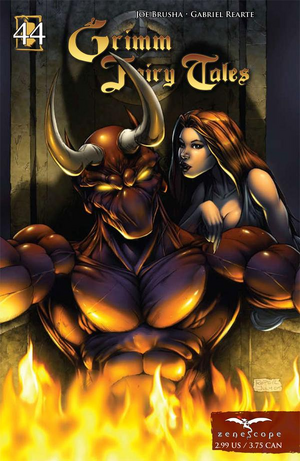 The Devil's Brother
Publication Details
Series Title:
Grimm Fairy Tales
Original Title:
The Devil's Brother
Release Date:
March 3, 2010
Digital Release Date:
November 2, 2011
Issue #:
44
Series Volume #:
8
The Devil's Brother is issue #44 in the Grimm Fairy Tales.
Summary
The root of the classic fairy tale The Devil's Brother is revealed in this issue. Fenton Bruce has been at the right hand of the Devil for over a century. As a reward he's lived a life of pleasure, wealth and excess far beyond that of any mortal man. In return he's been forced to see and do acts of unimaginable horror for more than 100 years. All because of one moment of weakness when he made a deal that was too good to be true. A deal that essentially made him the Devil's brother.
Person, Place, or Thing
Characters
Locations
Objects
Powers
Gallery
Covers
Preiews
Ads
Ad blocker interference detected!
Wikia is a free-to-use site that makes money from advertising. We have a modified experience for viewers using ad blockers

Wikia is not accessible if you've made further modifications. Remove the custom ad blocker rule(s) and the page will load as expected.