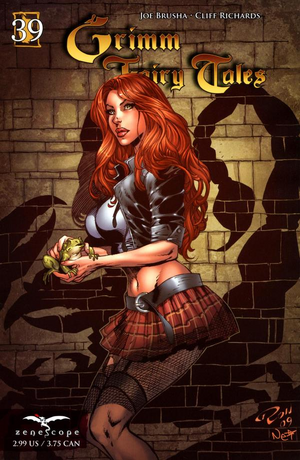 The Frog and the Scorpion
Publication Details
Original Title:
The Scorpion and the Frog
Release Date:
June 24, 2009
Released Price:
$2.99
Digital Release Date:
August 24, 2011
Pages:
22
The Frog and the Scorpion is issue #39 in the Grimm Fairy Tales.
Summary
Sela and Belinda have been enemies for decades. How did they first meet and what started their rivalry? Find out in this issue as Grimm Fairy Tales presents the Scorpion and the Frog. As she tries to help a young woman Sela reflects back on her history with Belinda and the lesson she has learned and knows well; a scorpion can never change its nature. Fans can't afford to miss this landmark issue.
Person, Place, or Thing
Characters
New Characters
Diana
Ms. Frog
Janine
Ms. Scorpion
Mentioned But Not Seen
Brandon
Diana's mother
Eric
Locations
Objects
Powers
Gallery
Covers
Preiews
Ads
Ad blocker interference detected!
Wikia is a free-to-use site that makes money from advertising. We have a modified experience for viewers using ad blockers

Wikia is not accessible if you've made further modifications. Remove the custom ad blocker rule(s) and the page will load as expected.