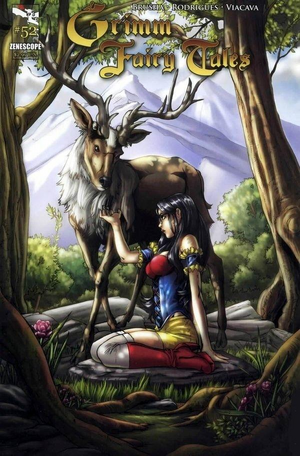 The Golden Stag (Comic Book)
Publication Details
Release Date:
December 1, 2010
Released Price:
$2.99 (A, B)
$14.99 (C)

[[Category:$2.99 (A, B)
$14.99 (C) Comics]]

Digital Release Date:
December 21, 2011
Current Digital Price:
$1.99
The Golden Stag (Comic Book) is issue #52 in the Grimm Fairy Tales.
Summary
Part two of the Glass Coffin continues as Sela's quest to free Prince Erik's soul brings her into conflict with servants of the Dark Horde...vile creatures whose sole purpose is to cause grief and pain by destroying everything pure and good in the world. With the help of a new ally, a mysterious and magical Golden Stag, Sela is determined to put a stop to their evil ways. But her fight against the Dark Horde earns her a new enemy in one of their most powerful generals ...the evil and treacherous Goblin Queen!
Person, Place, or Thing
Characters
Locations
Objects
Powers
Gallery
Covers
Preiews
Ads
Ad blocker interference detected!
Wikia is a free-to-use site that makes money from advertising. We have a modified experience for viewers using ad blockers

Wikia is not accessible if you've made further modifications. Remove the custom ad blocker rule(s) and the page will load as expected.