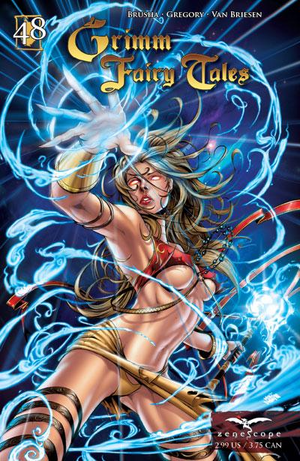 The Good Witch
Publication Details
Release Date:
June 16, 2010
Released Price:
$2.99
Digital Release Date:
November 23, 2011
The Good Witch is issue #48 in the Grimm Fairy Tales.
Summary
Grimm Fairy Tales presents The Good Witch. Samantha was an innocent coed until she fell under the Belinda's evil spell. Corrupted and destined to become a pawn in the Devil's game she was saved when Sela sacrificed herself and took her place. Now Samantha's been given a second chance and the power to make a difference and she's not about to waste it. Don't miss this issue which starts a brand new chapter in the Grimm Fairy Tales universe.
Person, Place, or Thing
Gallery
Covers
Preiews
Ads
Ad blocker interference detected!
Wikia is a free-to-use site that makes money from advertising. We have a modified experience for viewers using ad blockers

Wikia is not accessible if you've made further modifications. Remove the custom ad blocker rule(s) and the page will load as expected.