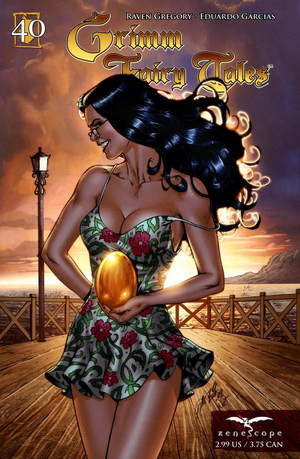 The Goose and the Golden Egg
Publication Details
Original Title:
The Goose and the Golden Egg
Release Date:
July 29, 2009
Released Price:
$2.99
Digital Release Date:
August 24, 2011
Pages:
22
The Goose and the Golden Egg is issue #40 in the Grimm Fairy Tales.
Summary
A con artist has found the perfect target for what could be his biggest score yet: a widow with more money than she knows what to do with. So as he prepares to take her inheritance right from under her nose Sela decides it's time to pay him a visit before things go terribly wrong. There is a fine line between need and greed and one con man is about to learn that once that line is crossed, there may be no going back.
Person, Place, or Thing
Characters
New Characters
Jillian Howard
Manus Howard
Kasey Jenae
Mentioned But Not Seen
Jillian's mother
Locations
Objects
Powers
Gallery
Covers
Preiews
Ads
Ad blocker interference detected!
Wikia is a free-to-use site that makes money from advertising. We have a modified experience for viewers using ad blockers

Wikia is not accessible if you've made further modifications. Remove the custom ad blocker rule(s) and the page will load as expected.