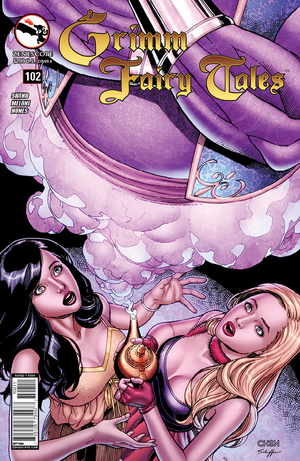 The Lamp
Publication Details
Series Title:
Grimm Fairy Tales
Trade Title:
Arcane Acre
Release Date:
September 2014
Released Price:
$2.99
Issue #:
102
Trade Issue #:
2
Trade Volume #:
1
The Lamp is issue #102 in the Grimm Fairy Tales.
Summary
Sela and Belinda have taken a group of young highborns under their wings, but what horrible prophecy will keep these promising teens from reaching their true potential? As a malicious genie moves in secret through the school, the deepest, darkest secrets of the students will come to light!
A new era has begun for Grimm Fairy Tales! With the four realms of power at Sela Mather's fingertips, life as the Guardian of Earth has never been more work. Jump on now!
Person, Place, or Thing
Characters
Locations
Objects
Powers
Gallery
Covers
Previews
Ads