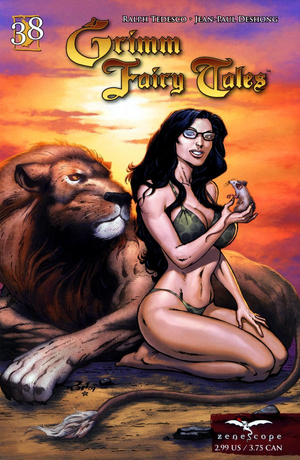 The Lion and the Mouse
Publication Details
Original Title:
The Lion and the Mouse
Release Date:
May 20, 2009
Released Price:
$2.99
Digital Release Date:
August 17, 2011
Pages:
22
The Lion and the Mouse is issue #38 in the Grimm Fairy Tales.
Summary
Cage-fighting manager Steve Roden discovered Michael Lyons on the rough streets of North Philly and took a chance on a kid who ultimately became one of the best mixed martial arts fighters in the world. Now Lyons is in the twilight of his career and preparing to fight his final bout which can sure up his legacy. But before he gets in the ring he must make the most difficult decision of his entire life. Can Lyons ultimately swallow his pride to help the man who took a chance on him or will ego get in the way of the sometimes gray area between right and wrong?
Person, Place, or Thing
Characters
New Characters
Dimitri
Michael "The Heart" Lyons
The mouse
The mouse's son
Dan Roden
Schuler
Tom
Uche the lion
Uche's wife
Mentioned But Not Seen
Michael's mother
Locations
Objects
Powers
Gallery
Covers
Preiews
Ads
Ad blocker interference detected!
Wikia is a free-to-use site that makes money from advertising. We have a modified experience for viewers using ad blockers

Wikia is not accessible if you've made further modifications. Remove the custom ad blocker rule(s) and the page will load as expected.