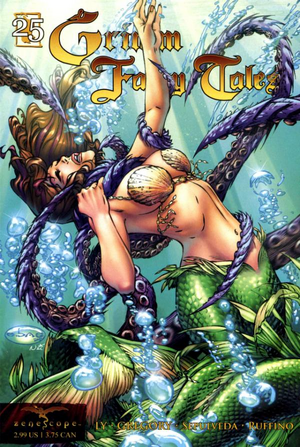 The Little Mermaid: Part One
Publication Details
Series Title:
Grimm Fairy Tales
Original Title:
The Little Mermaid
Release Date:
March 19, 2008
Released Price:
$2.99
Digital Release Date:
May 11, 2011
Digital Release Price:
$1.99
Issue #:
25
Series Volume #:
5
The Little Mermaid: Part One is issue #25 in the Grimm Fairy Tales.
Summary
At Belinda's urging, a down-on-her-luck mother uses her daughter, Sara, as a means to a better life. Soon, a promising college student enters a new world of glitz and glamour and a naïve little mermaid makes a deal with the infamous sea witch as both enter worlds wrought with betrayal and pain. This fish-out-of-water tale shows that even the best of intentions can lead to enduring heartache and proves the consequences of our fondest desires must be dealt with, whether we like it our not.
Person, Place, or Thing
Characters
Locations
Objects
Powers
Gallery
Covers
Preiews
Ads
Ad blocker interference detected!
Wikia is a free-to-use site that makes money from advertising. We have a modified experience for viewers using ad blockers

Wikia is not accessible if you've made further modifications. Remove the custom ad blocker rule(s) and the page will load as expected.