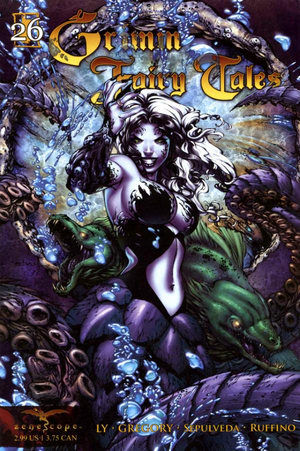 The Little Mermaid: Part Two
Publication Details
Series Title:
Grimm Fairy Tales
Original Title:
The Little Mermaid
Release Date:
April 16, 2008
Digital Release Date:
May 18, 2011
Issue #:
26
Series Volume #:
5
The Little Mermaid: Part Two is issue #26 in the Grimm Fairy Tales.
Summary
Part two of the story of the Little Mermaid continues! After the heart breaking revelation of the last issue, Ariel finds herself at a crossroads. She wants Prince to pay for his betrayal but isn't so sure she can go through with it while the Sea Witch waits patiently in the wings to collect her soul. Meanwhile a young girl is spurned by her famous athlete lover and when her mother coaxes revenge, the girl must make a choice that will forever change her life.
Person, Place, or Thing
Characters
Locations
Objects
Powers
Gallery
Covers
Preiews
Ads
Ad blocker interference detected!
Wikia is a free-to-use site that makes money from advertising. We have a modified experience for viewers using ad blockers

Wikia is not accessible if you've made further modifications. Remove the custom ad blocker rule(s) and the page will load as expected.