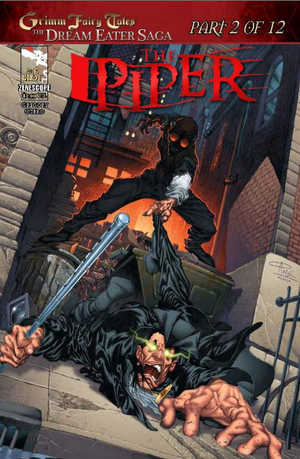 The Piper
Publication Details
Story Arc Title:
The Dream Eater Saga
Release Date:
June 8, 2011
Released Price:
$2.99
Digital Release Date:
December 28, 2011
Story Arc Issue #:
2
Story Arc Volume #:
1
The Piper is issue #2 in The Dream Eater Saga. It is also the first one-shot about the Piper since the mini-series about him debuted.
Summary
In another world the Piper was a feared and powerful soldier of the Dark One. His flute brought the strong and the weak to their ends in both this world and the world of Myst. But with the Dream Eater loose on the earth the hunter has now become the hunted and the Piper will learn the hard lesson that no matter how far he runs, no matter where he hides, he can not escape the Dream Eater.
Person, Place, or Thing
Gallery
Covers
Previews
Ads
Ad blocker interference detected!
Wikia is a free-to-use site that makes money from advertising. We have a modified experience for viewers using ad blockers

Wikia is not accessible if you've made further modifications. Remove the custom ad blocker rule(s) and the page will load as expected.