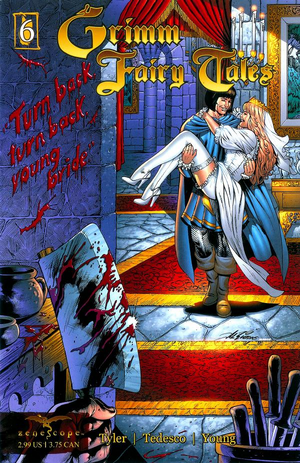 The Robber Bridegroom
Publication Details
Series Title:
Grimm Fairy Tales
Original Title:
The Robber Bridegroom
Published:
May 2006
Release Date:
June 7, 2006
Released Price:
$2.99
Digital Release Date:
December 3, 2009
Digital Release Price:
$1.99
Issue #:
6
Series Volume #:
1
The Robber Bridegroom is issue #6 in the Grimm Fairy Tales.
Summary
Two beautiful sisters compete for the attention of the hottest guy at school. When he chooses one over the other a nasty fight erupts between the two siblings, threatening to shatter their sisterly bond. A trip to the world of Grimm Fairy Tales teaches them that blood is literally thicker than water.
Person, Place, or Thing
Characters
Locations
Objects
Powers
Gallery
Covers
Previews
Ads
Ad blocker interference detected!
Wikia is a free-to-use site that makes money from advertising. We have a modified experience for viewers using ad blockers

Wikia is not accessible if you've made further modifications. Remove the custom ad blocker rule(s) and the page will load as expected.