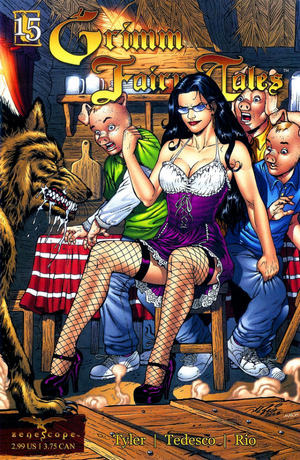 The Three Little Pigs
Publication Details
Series Title:
Grimm Fairy Tales
Original Title:
The Three Little Pigs
Published:
June 2007
Release Date:
June 27, 2007
Released Price:
$2.99
Digital Release Price:
$1.99
The Three Little Pigs is issue #15 in the Grimm Fairy Tales. It is also the third issue in the third volume.
Summary
Spending the majority of their time getting high and committing random crimes, 3 slackers soon find themselves taken on a nightmare journey with their impromptu guide, Sela Mathers. After continuous run-ins with people who refuse to heed her advice, Sela has decided to start using more drastic measures. With the help of the Big Bad Wolf, Sela makes her most unforgettable impression by showing the three friends that certain people don't deserve a second chance.
Person, Place, or Thing
Characters
Locations
Objects
Powers
Gallery
Covers
Previews
Ads
Ad blocker interference detected!
Wikia is a free-to-use site that makes money from advertising. We have a modified experience for viewers using ad blockers

Wikia is not accessible if you've made further modifications. Remove the custom ad blocker rule(s) and the page will load as expected.