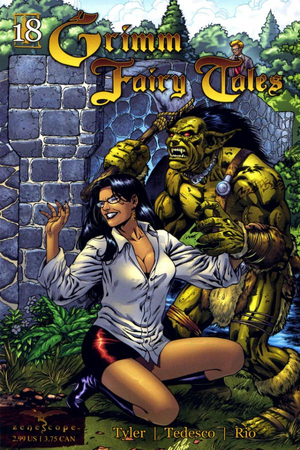 Three Billy Goats Gruff
Publication Details
Original Title:
Three Billy Goats Gruff
Release Date:
November 21, 2007
Digital Release Date:
April 27, 2011
Three Billy Goats Gruff is issue #18 in the Grimm Fairy Tales.
Summary
A young boy who is tormented by the school bully learns that sometimes you have to stand up for yourself and fight back, even if it's a fight you can't win. But he's not the only person to learn a valuable lesson from the story. Sela herself learns that things aren't always as they appear to be and that one person can make a difference in the world if they have the courage to try.
Person, Place, or Thing
Characters
Locations
Objects
Powers
Gallery
Covers
Preiews
Ads
Ad blocker interference detected!
Wikia is a free-to-use site that makes money from advertising. We have a modified experience for viewers using ad blockers

Wikia is not accessible if you've made further modifications. Remove the custom ad blocker rule(s) and the page will load as expected.