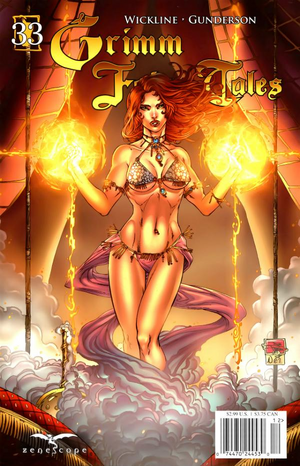 Three Snake Leaves: Part 2
Publication Details
Series Title:
Grimm Fairy Tales
Story Arc Title:
Three Snake Leaves
Release Date:
December 24, 2008
Released Price:
$2.99
Digital Release Date:
August 3, 2011
Issue #:
33
Series Volume #:
6
Story Arc Issue #:
2
Three Snake Leaves: Part 2 is issue #33 in the Grimm Fairy Tales.
Summary
Part 2 of the first Grimm Fairy Tales/1001 Arabian Nights crossover is here!
A man searching for a cure to his dying wife's illness may find that the remedy is far worse than the disease itself as he discovers a little known fairy tale with the help of the conniving Belinda. The Three Snake Leaves is the story of a man who is willing to do anything to bring back his dead wife, and the dire price he must pay as a result.
Revealing the full origin of Wilhelm from The Adventures of Sinbad, this sensational crossover issue is one not to be missed! Connects with 1001 Arabian Nights #7 on sale January!
Person, Place, or Thing
Characters
Locations
Objects
Powers
Gallery
Covers
Preiews
Ads